Recommended Global Materials Science Conferences
Emerging Materials 2019
About Conference
Conference Series LLC Ltd welcomes every one of the members over the globe to attend the 21st International Conference on Emerging Materials and Nanotechnology during May 24-25, 2019 in Ottawa, Canada. Theme of the Conference is " Emphasizing towards modernization in Material Science" with a target to support youthful personalities and their research abilities by giving a chance to meet the specialists in the field of Materials Science, Engineering and Nanotechnology. Materials Science events are intended to investigate different applications in various fields.
Conference Series LLC Ltd organizes a conference series of 3000+ Global Events with over 600+ Conferences, 1200+ Symposiums and 1200+ Workshops in USA, Europe & Asia with support from 1000 more scientific societies and publishes 700+ Open access journals which contains over 30000 eminent personalities, reputed scientists as editorial board members.
Sessions/Tracks
Track 1: Advanced Technologies in Material Science
Emerging materials and nanotechnology is an interdisciplinary field of science and engineering incorporating wide range of natural and man-made materials that relates the structure, synthesis, properties, characterization, performance and material processing. Speciality chemicals are enabling the creation of new components and devices including displays, batteries, supercapacitors, printed electronics, stretchable electronics and much more. On the level of materials science research, represents a new genre of materials with its own logic of effect that cannot be described simply in terms of the usual categories of heavy and light or form, construction, and surface. The materials like Salmon leather, Wood-Skin flexible wood panel material, Re Wall Naked board, Coe Lux lighting system, OLEDs, Organic solar cell, Bling Crete light-reflecting concrete, digital genome , 3D printing , memristor and many other new innovations have created amazing and unique characteristics of the materials, for example Coe lux lightening system where the scientists used a thin coating of nanoparticles to accurately simulate sunlight through Earth's atmosphere and the effect known as Rayleigh scattering. Soft materials are another emerging class of materials that includes gels, colloids, liquids, foams, and coatings.
The surface mount technology (SMT) market was valued at USD 2.70 billion in 2014 and is expected to grow at a CAGR of 9.84% between 2015 and 2020. The base year used for study is 2014, and the forecast period is from 2015 to 2020. The global surface disinfectant market is expected to reach USD 542.55 Million by 2020 from USD 312.17 Million in 2015, growing at a CAGR of 11.69% between 2015 and 2020.
Track 2: Emerging Technology in Nanotechnology
Nanotechnology is the collaboration of the physics, chemistry, biology, computer and material sciences integrated with engineering entering the nanoscale which range between 1-150nm. This means science and engineering focused on making the particles, things and devices at the atomic and molecular scale. The properties of nanomaterials differ from those of bulk materials having unique optical, electronic and mechanical properties. Engineered nanomaterials (ENMs) are designed and produced with novel physicochemical properties for a specific application from minerals and other chemical substance. Nanomaterial research is a material science-based approach to nanotechnology which has its application in healthcare, electronics, cosmetics, optics, catalysis, pharmaceutics, energy conservation and other fields. The latest field of research on nanotechnology include Nano-optics and nanophotonic, Nanotoxicology and Nano safety, Graphene lenses and their applications, 5Nanobubbles technology, Recent technologies in medical imaging, Ultralight materials, etc,. Another important aspect of nanomaterials is Carbon Nano materials, which are an enabler for technology with seemingly endless potential applications: detecting cancer before it spreads, self-repairing buildings and bridges, filtering water, and powering mobile devices from body heat or movement. Carbon nanotubes are incredibly small and incredibly strong, 100 times stronger than steel at one-sixth of the density and 10,000 times smaller than one human hair. Graphene is a carbon membrane that, at just one atom thick, is stronger than steel and can tolerate of wide temperature and pH ranges.
The global nanotechnology-based medical devices market is expected to grow at a significant CAGR of around 11-12% during the forecast period (2014–2019). This report studies the global nanoparticle analysis market over the forecast period of 2015 to 2020. The market is expected to reach USD 91.1 Million by 2020, at CAGR of 5.4% from 2015 to 2020.
Track 3: Material Characterization and Application
Materials Characterization is the broad and general process by which a material's structure and properties are probed and measured. It is a fundamental process in the field of materials science, without which no scientific understanding of engineering materials could be ascertained. While many characterization techniques have been practiced for centuries, such as basic optical microscopy, new techniques and methodologies are constantly emerging. In particular the advent of the electron microscope and Secondary ion mass spectrometry in the 20th century has revolutionized the field, allowing the imaging and analysis of structures and compositions on much smaller scales than was previously possible, leading to a huge increase in the level of understanding as to why different materials show different properties and behavior. More recently, atomic force microscopy has further increased the maximum possible resolution for analysis of certain samples in the last 30 years.
The market for insulation products is estimated to grow from USD 43.85 billion in 2016 to reach USD 62.84 billion by 2021, at a CAGR of 7.46%. The base year considered for the study is 2015 and the market size is projected from 2016 to 2021. The global market size of building thermal insulation was USD 22.73 Billion in 2015 and is projected to reach USD 28.39 Billion by 2021, at a CAGR of 3.50% between 2016 and 2021.
Track 4: Materials and Devices
Materials are the building block of emerging device. Materials are used in devices because of their unique properties such as electrical, magnetic, thermal, optical, mechanical and piezoelectric properties. The widely used material components are polymers, semiconductors, oxides and liquid crystals. The electronic materials are the principal elements in numerous device application and has its usage in daily electronic tools such as computers, mobile phones, LED bulbs and GPS devices. New materials and devices are designed to improve the optical, electronic, thermal and chemical performance of the existing devices. The present strategies of developing electronic materials and devices involves the synthesis and fabrication of materials with desired properties. This thrust for emerging materials and devices has led the researchers to discover various new materials including Nano materials, fullerenes, carbon nanotube, Aerosol jets, Graphene, high-k dielectrics, strained Si, conductive polymers, quantum heterostructures, nanomesh and nanofilm, nanoelectromechanical systems, nanoimprint lithography, Stereolithography, Poly jet, Fused Deposition Modelling, Selective Laser Sintering, Selective Laser Melting, etc., each offering unique applications. It is therefore, very important that the researchers working in the field of materials and devices are equipped with the right knowledge of modern tools and methods used in processing and characterization of these emerging materials and devices. The present strategies of developing electronic materials and devices involves the synthesis and fabrication of materials with desired properties.
The global laser technology market is expected to grow from USD 10.09 Billion in 2015 to reach USD 14.67 Billion by 2022, at a CAGR of 5.33% between 2016 and 2022. The global ablation technologies market is expected to be valued at USD 2.70 Billion in 2015, growing at a CAGR of 10.5% during the forecast period to reach 4.44 Billion in 2020.
Track 5: Optical and Magnetic Materials
Magnetic Materials is named having a place with no less than one of 3 classes, depending on their attractive properties. Paramagnetic and Ferro attractive materials are those produced from molecules that have lasting attractive minutes. Magnetic materials are those fabricated from iotas that don't have changeless attractive minutes. Magnets can capably draw in ferromagnetic materials, weak pull in paramagnetic materials, and sick repulse diamagnetic materials. Ferromagnetic materials have the most attractive employments. The most sensible use for diamagnetic materials is in attractive levitation. Optical Materials utilized for the exchange of light by implies that of intelligent, retaining, centring or part of an optical shaft. The electrical reaction of materials for the most part comes from the elements of electrons, and their association with particles and atoms. a material will be delegated a conductor, semiconductor or material steady with its reaction to relate degree outer power field. The consequence of those materials is exceptionally needy of the different wavelengths. An extensive variety of enquires about were directed and prompts the improvement of lasers, warm outflow, photon conductivity and optical strands and so on. The market size of magnetic materials is estimated to have been USD 55.52 Billion in 2014, and is projected to reach USD 96.00 Billion by 2020, at a CAGR of 9.6% between 2015 and 2020. In this report, 2014 is considered as the base year and forecast period is 2015–2020. The global magnetic materials market has been segmented based on type, application, and region. Semi-hard magnet is projected to play a key role in fuelling the growth of the overall magnetic materials market owing to its unique properties, making it suitable for use in various automotive, electronics, industrial, power generation, and other applications. Semi-hard is the most extensively used magnetic materials owing to global demand for technological systems & devices that are used to develop innovative products. Some of the related products are antitheft articles, electronic systems, automotive devices, and smart electronic bank cards.
Track 6: Materials for Energy Storage
Energy storage is the capture of energy produced at one time for use later. A device that stores energy is sometimes called an accumulator. Energy comes in multiple forms including radiation, chemical, gravitational potential, electrical potential, electricity, elevated temperature, latent heat and kinetic. Energy storage encompasses converting energy from forms that are hard to store to more conveniently or economically storable forms. Bulk energy storage is dominated by pumped hydro, which accounts for 99% of global energy storage. Efficient energy storage is one of the key points to be solved for a successful development of renewable energies. In addition, the increasing demand for energy sources to power various portable equipment for microelectronics, safety, medical applications, army, smart phones, telecommunications, tools, etc.
The industrial batteries market is projected to reach USD 10.84 Billion by 2021, at a CAGR of 6.5% between 2016 and 2021. The growth of the market can be mainly attributed to the growing demand from the automotive sector, growth in the renewable energy sector, increased recycling efficiency of lead-acid and lithium-based industrial batteries, and superior performance of industrial batteries in terms of energy density. The energy and utility analytics market size is expected to grow from USD 1.81 Billion in 2016 to USD 3.41 Billion by 2021, at a Compound Annual Growth Rate (CAGR) of 13.5% during the forecast period.
Track 7: Green Materials and Technology
Green materials are materials that are local and renewable. Local materials often are unique to the place and connect whatever people make within an area or region. Materials from the ground such as clay, sand and stone are green materials as they are found underfoot. Plant materials such as grasses, straw, wood and bamboo are also materials that have been used by humans since they started building. Plant materials that grow quickly are for the most part renewable. Reclaimed materials are materials that can be reused in their existing form for new purposes. Reclaimed materials are green in the sense that they can be re-purposed and reused. Recyclable materials are materials that can move from being waste material to being reused through reprocessing or re-purposing. Green materials today are defined as materials that are non-toxic, improve occupancy health, lower cost, and conserve energy and water use and waste products. Non-toxic materials are materials that do not cause harm to the environment, to the users of the material or to the producers of the material. Green materials are also materials that have low embedded energy in their harvesting or collection, production, transportation and use. Material scientists work with chemical and biological engineers to develop new and better materials. Green Building Materials Market Report, published by Allied Market Research, forecasts that the global market is expected to be $171,475 million in 2015, growing at a CAGR of 11.9% from 2016 to 2022, to reach $377,029 million by 2022.The exterior products segment dominated the market in 2015 with one-third share, in terms of revenue.
Track 8: Polymer and Ceramic Technology
The field of Nanotechnology is one of the most popular areas for current research and development in basically all technical disciplines. This obviously includes polymer Nanotechnology which include microelectronics (which could now be referred to as nanomaterial). Other areas include polymer-based biomaterials, Nano medicine, Nano emulsion particles; fuel cell electrode polymer bound catalysts, layer-by-layer self-assembled polymer films, electro spun nanofabrication, imprint lithography, soft lithography, polymer blends and Nano composites. Even in the field of nanocomposites, many diverse topics exist including composite reinforcement, barrier properties, flame resistance, electro-optical properties, cosmetic applications, bactericidal properties. Phase separated polymer blends often achieve Nano scale phase dimensions; block copolymer domain morphology is usually at the Nano scale level; asymmetric membranes often have Nano scale void structure, mini emulsion particles in the large field of nanotechnology, polymer matrix-based nano composites have become a prominent area of current research and development. Metal oxides represent an assorted and appealing class of materials whereby the field of metal oxide nanostructured morphologies has become one of the most active research areas within the nanoscience community. This track covers Highly porous ceramic and metal materials, Composites based on shape-memory alloys, Design and manufacturing technology for ceramic and cermet composites with structural and phase transformations, Transformation-hardening ceramic and metal composite materials, Wear resistance of transformation-hardening ceramic and metal composite materials, Bio ceramic Materials, Porcelain, Ceramics Manufacturers and Market Analysis
The global electroactive market is projected to reach USD 4.4 Billion by 2020, signifying firm annualized growth of 7% between 2015 and 2020. The global silicone coating market is projected to reach USD 6.60 Billion by 2021, registering a CAGR of 6.90% between 2016 and 2021. The global market size of bioresorbable polymers was USD 661.9 Million in 2015 and is projected to reach USD 1,407.5 Million by 2021, at a CAGR of 13.42% between 2016 and 2021.
Track 9: Biosensors and Bio Electronic Materials
Biomaterials are the non-sedate substances that are intended to act with the natural framework either as an area of therapeutic gadget or to alter or repair any broken organs or tissues. Biomaterials are determined either normally or artificially. right now daily's numerous looks into are going on identifying with the Bio materials and Bio gadgets and brought a huge change at interims the medicinal field and grounds up being developed of Joint substitutions, Bone plates, Intraocular focal points for eye surgery, Bone concrete, Manufactured ligaments, Dental inserts for tooth obsession, vas prostheses, Heart valves, simulated tissue, anatomical structure substitutions, Contact focal points, Bosom inserts, Medication conveyance instruments, property materials, tube-moulded structure unites, Stents, Nerve courses, Surgical sutures, clasps, and staples for wound conclusion, and ,Surgical work, Imaging and Perception Gadgets. Biosensors and Bio electrical Materials utilized for the recognition of a scientific that blends an organic part with a science finder. This normally represents the chief significant a piece of the sensor gadget. In any case, it's possible to think of an easy to use demonstrate that has electrical gadget and delicate part. The global bioelectronics and biosensors market was estimated at USD 11.4 billion in 2013. The market is anticipated to grow at a healthy CAGR over 10%, exceeding USD 28 billion in the forecast period (from 2016 to 2024). Bioelectronics & biosensors pertain to the application of electronics in the fields of medicine & biology. A biosensor is a diagnostic tool that joins a biological element with a physicochemical detector. Examples of biological elements are nucleic acids, cell receptors, antibodies, organelles, tissues, etc. Various biological materials are utilized by biosensors to observe the presence of different chemicals in a substance.
Track 10: Metals, Mining and Metallurgy
Material science plays a significant role in mining and metallurgy. Materials with a precise shape, geometry and arrangement which can affect light and sound in unconventional manners are considered as a functional materials Biomaterials, Metamaterials, graphene, Nano-electromechanical systems are new functional materials which has been constantly improved and utilized in different sectors where potential applications are diverse including drug delivery, improve grafting in transplants, remote aerospace applications, infrastructure monitoring, smart solar power management, and public safety, improving ultrasonic sensors, and even shielding structures from earthquakes.
Mining and Metallurgy is the field of Materials Science that deals with physical and chemical nature of the metallic & intermetallic compounds and alloys. Diverse methods and skills used in the extraction and production of various metals are extraction of metals from ores, purification; Metal casting Technology, plating, spraying, etc. in the series of processes, the metal is subjected to thermogenic and cryogenic conditions to analyses the corrosion, strength & toughness of the metal. Alloy development and casting techniques, Creep resistant alloys, Corrosion, heat treatment, Extractive metallurgy, Powder metallurgy, Light metals for transportation, Coupled mechanics. Components with higher strength to weight ratios, lower cost solar cells, lower cost display screens in mobile devices, storing hydrogen for fuel cell powered cars, Hydrometallurgy, medical sensors, faster charging batteries, ultracapacitors. NEMS typically integrate transistor-like Nano electronics with mechanical actuators, pumps, or motors, and may thereby form physical, biological, and chemical sensors.
The market demand for steel processing is projected to grow at $642.43 Billion by 2020 and CAGR of 2.16% from 2015 to 2020. The metalworking fluids market was estimated to be worth USD 8.30 Billion in 2014 and is projected to reach USD 9.74 Billion, by 2020, at a CAGR of 3.2% between 2015 and 2020. In this report, 2014 is considered as the base year and forecast period is between 2015 and 2020.
Track 11: Coating and Surface Engineering
The study of physical and chemical process that ensues by merging of two steps, with solid–liquid/ solid–gas/ solid–vacuum/ liquid–gas interfaces is termed as Surface Science. The real application of surface science in associated fields like chemistry and physics is known as Surface Engineering. Surface Chemistry accomplishes the modification of chemical composition of a surface by introducing functional groups and other elements whereas Surface physics deals with the physical changes that occur at interfaces. Techniques involved in Surface engineering are spectroscopy methods such as X-ray photoelectron spectroscopy, low-energy electron diffraction, electron energy loss spectroscopy, Auger electron spectroscopy, Thermal desorption spectroscopy, ion scattering spectroscopy and secondary ion mass spectrometry, etc. Production Root Technology symbolically refers to an integration of six production technology groups; casting, molding, forming, welding, heat treatment, and surface treatment. This track covers New Concept & Emerging Technology, Shaping and Thermal Process, and Coating Process for Low Friction and Energy Solution, Innovative Process Technologies with Enhanced Performances of Products.
The surface mount technology (SMT) market was valued at USD 2.70 billion in 2014 and is expected to grow at a CAGR of 9.84% between 2015 and 2020. The base year used for study is 2014, and the forecast period is from 2015 to 2020. The global surface disinfectant market is expected to reach USD 542.55 Million by 2020 from USD 312.17 Million in 2015, growing at a CAGR of 11.69% between 2015 and 2020.
Market Analysis
Emerging Materials 2019
Theme: Emphasizing towards modernization in Material Science
https://emergingmaterials.conferenceseries.com/
=============================================
We are aware of traditional materials and synthetic materials till date. As we know sky is the limit for inventions, our scientists are striving hard to create next generation materials that will exactly fit to the present world. Next-generation materials include super-light materials and active materials that react to changes in their environment and ultimately smart materials that explain how they are doing. Functional materials follow by borrowing ideas from biology to improve performance and add new behaviours. Self-assembling materials are about making large-scale products that are more precise, enabling better properties (strength, tear resistance, conductivity, etc.). By taking this in to consideration, Conference Series LLC Ltd feels privileged to announce its 21st series of Conference on Emerging Materials and Nanotechnology.
Conference Series LLC Ltd and Organizing Committee of Materials Science Conferences are pleased to invite all of you to the 21st International Conference on Emerging Materials and Nanotechnology during May 24-25, 2019 in Ottawa, Canada. This two days event is planned with the theme: "Emphasizing towards modernization in Material Science'' that will cover the emerging areas in Materials Science, Polymer science and Nanotechnology.
Scope & Importance
The manifold nature of Materials Science is attracting many students and researchers to explore in this field. The growth of materials science in the United States was catalysed in part by the Advanced Research Projects Agency, which funded a series of university-hosted laboratories in the early 1960s "to expand the national program of basic research and training in the materials sciences." The field has since broadened to include every class of materials, including ceramics, polymers, semiconductors, magnetic materials, medical implant materials, biological materials and nanomaterials.
Why to attend?
21st International Conference on Emerging Materials and Nanotechnology is the best platform to share your thoughts in the creation of new materials in the field of Materials Science and Nanotechnology. We feel our conference will create a bridge between students to Academicians and to business delegates. The theme and scientific sessions of this conference are designed in such a way, where attendees learn about the emerging materials and technologies that are happening worldwide. The theme "Emphasizing towards modernization in Material Science" gives the researchers scope to explore more about Emerging Materials and Nanotechnology

Major Materials Science Associations around the Globe
American Chemical Society (ACS)
American Physical Society (APS)
The Materials Information Society (ASM International)
The Materials Research Society (MRS)
Microscopy Society of America (MSA)
The Minerals, Metals & Materials Society (TMS)
Sigma Xi: The Scientific Research Society
International Society for Optical Engineering (SPIE)
The American Ceramic Society (ACerS)
Major Nanotechnology Associations around the Globe
National Center for Nanoscience and Technology (China)
National Institute for Nanotechnology (Canada)
Iranian Nanotechnology Laboratory Network
Russian Nanotechnology Corporation
National Nanotechnology Center (NANOTEC), Thailand
National Nanotechnology Initiative (United States)
National Cancer Institute Alliance for Nanotechnology in Cancer
National Institutes of Health Nanomedicine Roadmap Initiative
American National Standards Institute Nanotechnology Panel (ANSI-NSP)
NanoNed
Statistical Analysis of Materials Science associations in Canada and USA

Target Audience:
Materials Scientists/Research Professors/ Nanotechnologists
Physicists/Chemists
Junior/Senior research fellows of Materials Science/ Nanotechnology/ Polymer Science/
Materials Science Students
Directors of chemical companies
Materials Engineers
Members of different Materials science associations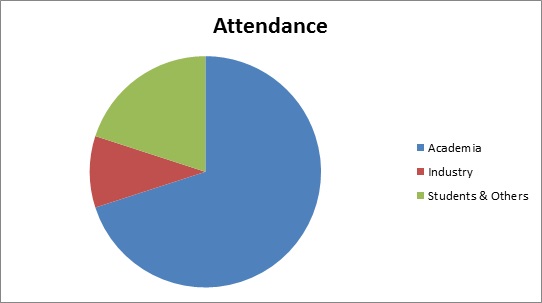 Graphical Representation of Attendance from different sectors
Universities in Canada
McGill University
University of Toronto
University of British Columbia
University of Alberta
Université de Montréal
McMaster University
University of Waterloo
Western University
University of Calgary
Queen's University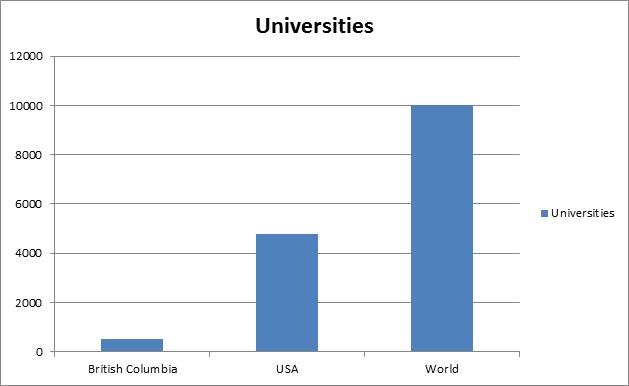 Statistical Analysis of Universities
Global Markets of Materials Science
The global market is projected to reach $6,000 million by 2020 and register a CAGR of 10.2% between 2015 and 2020 in terms of value. The growth in market is estimated to be driven by the increasing demand for aerogel materials from oil & gas and construction applications. The North American region remains the largest market, followed by Asia-Pacific. The Europe market is estimated to be growth at a steady rate due to economic recovery in the region along with the increasing concern for the building insulation and energy savings. The U.S. Bureau of Labour Statistics (BLS) produces annual wage estimates for more than 800 individual occupations. Newly released figures for 2012 put BLS Code 19-2032 (an occupational group encompassing materials scientists) in 82nd place in yearly wages. The group, which includes 7,970 employees across the country, posted an average annual salary of $89,740.
Global consumption of nanocomposites is expected to grow in unit terms from nearly 225,060 metric tons in 2014 to nearly 584,984 metric tons in 2019, a compound annual growth rate (CAGR) of 21.1% for the period of 2014 to 2019. The global market for nanofiber product reached $203.2 million and $276.8 million in 2013 and 2014, respectively. This market is projected to grow from $383.7 million in 2015 to nearly $2.0 billion in 2020, representing a compound annual growth rate (CAGR) of 38.6% between 2015 and 2020. The global nanotechnology market in environmental applications reached $23.4 billion in 2014. This market is expected to reach about $25.7 billion by 2015 and $41.8 billion by 2020, registering a compound annual growth rate (CAGR) of 10.2% from 2015 to 2020.
The global smart glass market is expected to grow from USD 2.34 Billion in 2015 to USD 8.13 Billion by 2022, at a CAGR of 19.2% between 2016 and 2022. The emerging automobile and architectural buildings end–use industry create a huge demand for the smart glass market across the world. The major factors driving the growth of the market are the need for energy-efficient solutions and government regulations for green buildings. Furthermore, the growing automotive sector is expected to drive the market in the near future.

Market Growth of Materials Testing and Service Industries
Statistics which shows growth in importance of Materials Globally: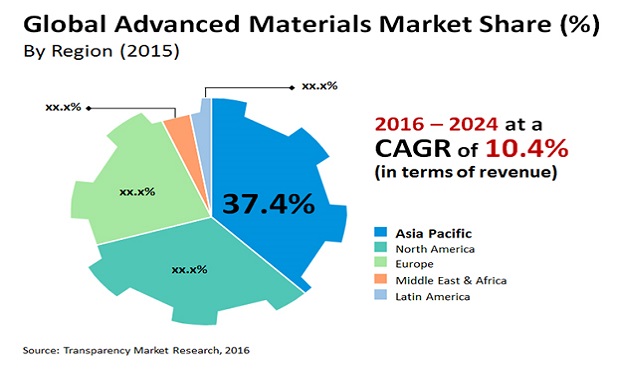 Past Conference Report
Thanks for attending Emerging Materials 2018!
Another Emerging Materials Conference has been successfully completed - The 20th edition – and we must say Thanks to the attendees, Pacific Gateway Hotel Vancouve Airport Staff, and the Organizing Committee, Ad-Sponsors & Media partners and everyone else that helped to make this 20th International Conference on Emerging Materials and Nanotechnology with the theme: Cutting Edge Excavation of Research on Emerging Materials and Nanotechnology a successful conference.
To Attendees,
We hope that you obtained the kind of advance technical information in the arena of Emerging Materials and Nanotechnology that you were seeking, and that your role in the field has been enhanced via your participation. We hope that you were able to take part in all the sessions and take advantage of the tremendous advancements in Materials Science and Nanotechnology that scientists are working with.
If you have any feedback for us for future consideration or enhancements of this Conference, please provide your feedback to Conference Manager.
Isabella Campbell at [email protected]
The meeting covered various sessions, in which the discussions included the scientific tracks:
Emerging Technologies in Material Science
Advanced Emerging Materials
Material characterization and application
Materials and Device
Emerging Material in Nanotechnology
Next-generation materials
Metals, Mining and Metallurgy
Biomaterials and Bioinspired material
Coating and surface engineering
Materials for energy storage
Polymer and ceramic nanotechnology
The Keynote presentations were given by:
Jan J Dubowski | Universite de Sherbrooke |Canada
Aman Ullah | University of Alberta | Canada
Anderson H C Shum | The University of Hong Kong | Hong Kong
Bookmark your dates: We hope to see you at Emerging Materials 2019, Ottawa, Canada during May 24-25, 2019
Organizing Committee
Emerging Materials 2018
To Collaborate Scientific Professionals around the World
Conference Date May 24-25, 2019
For Sponsors & Exhibitors
Supported By
All accepted abstracts will be published in respective Conference Series LLC LTD International Journals.
Abstracts will be provided with Digital Object Identifier by